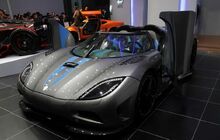 Hello contributors! You can call me A.G Man. I made this account on June 3rd 2013. I first visited this wiki in 2012, and in June 2013 I made my own account. Even though I made this account much later from when I first visited this wiki, I am a big regular. I also became a rollback on 27 June, 2013. I became an admin on 17 July, 2013. If any violations are made, report to to me or the other active admins: User:Jonny Mole and User:Master ventus .
Things I DO
Movies(especially Cris Nolan ones)
Supercars! (Especially the Koeinisegg Agera and The Pagani Huayra, i don't know which one is my favorite)

Top Gear
Formula 1
Phineas And Ferb
Userboxes
Goals
To help this wiki:Check
To become an admin:Check
To make friends with other users:Check
To become a Bureaucrat.