Steven "Steve" James Zahn (Born November 13, 1967) known simply as Steve Zahn, is an American actor who portrayed Frank Heffley in the first three adaptations of the Diary of a Wimpy Kid series.
Film career
His first acting performance was in the play Biloxi Blues, a Minnesota production, at the Old Log Theater. However, his film debut was in the movie Reality Bites , directed by Ben Stiller, in which he played Winona Ryder's homosexual roommate.
Zahn's early roles were spread between movies, Broadway theater tours, and television series. During the years 1992 to 1993, he made a theatrical tour playing the role of Hugo, in the Barry Weissler production, titled Bye Bye Birdie, in the company of renowned actors such as Tommy Tune, Ann Reinking, and Marc Kudisch. In 1995, he participated in an episode of the series Friends, as Phoebe Buffay's husband, named Duncan. In the mid-1990s, he participated in the film produced and directed by Tom Hanks, titled That Thing You Do! These acting roles increased his fame and respect for his artistic performance, and led to his leading role in the acclaimed independent film, Happy, Texas (1999). Among some of the most popular films Zahn has participated in are National Security (2003), Daddy Day Care (2003), Sahara (2005), and Bandidas (2006). his performance in Riding in Cars with Boys has been his most critically acclaimed role, in which he starred alongside Drew Barrymore, playing his husband. In 2010, he would be assigned as an actor in the film Diary of a Wimpy Kid in which he would play the role of Frank Heffley, the father of Greg Heffley, who starred in the film. He would also have the same role in the sequels (Rodrick Rules and Dog Days) both released in 2011 and 2012, respectively. In 2021, he played Mark in The White Lotus.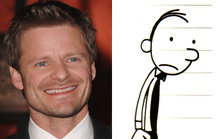 Personal life
Zahn owns a farm in New Jersey and is married to actress Robyn Peterman, daughter of John Peterman, whom he met during the production of Bye Bye Birdie. Both have a son named James Zahn (born April 3, 2000 in New York) and a daughter named Audrey Zahn.
External links
Gallery