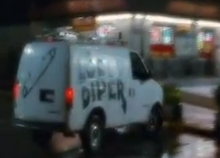 Rodrick's Van is a vehicle that Rodrick Heffley drives, It has Rodrick's band livery, and Löded Diper on the sliding doors. Since Rodrick hauls band equipment in the van, there are no back seats.
Trivia
Rodrick's van has appeared in around half of the books in the series. This makes it the most notable vehicle in the franchise.
The drawings of the van in the book are too generic to ressemble any models in particular, but it was portrayed as a 1996-2005 Chevrolet Astro AWD in the first 3 movies.
Bill drives the van in the online version, while Rodrick owns a El Camino style pickup truck.
In the films it is revealed that the van has a paper clip sign on its back doors.
In the online version Rodrick has a truck rather than a van.
In Old School, the van was stated to be in poor condition overall, with a broken taillight and an expired inspection sticker.

In addition to this, Greg states that the van is at least 15 years old in Rodrick Rules.
Gallery
Community content is available under
CC-BY-SA
unless otherwise noted.