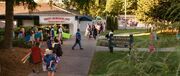 Plainview Municipal Pool is a local town pool located in Plainview. It only appeared in Rodrick Rules and Dog Days. It has many different sections of pools, and one lifeguard has to move sections every time. Activities like the swimming team's practice and Water Jazz are also done here. Also for fifteen minutes, children are not allowed in the pool, so Greg used to go to the pool for younger children, but was put off when a little boy announced that he was peeing in the pool.
Greg is also scared off the diving boards at the deep end of the pool, as Rodrick pushed him off once after telling him a clown was giving away free toys on the top. He also dislikes going through the shower area, because there are naked men there.
In a flashback in Double Down, Rodrick told Greg that if he wore camouflage, he is invisible to everyone else, in which a specific interpretation of the statement ended up getting Greg banned from the pool for the rest of the summer.
Known lifeguards:
Appearances
Gallery
Community content is available under
CC-BY-SA
unless otherwise noted.