Plainview is the city in which Greg and his family live. Its name is revealed in the Diary of a Wimpy Kid Movie. Greg lives in a suburban area.
It is unknown in which state it is located. But it is possible Plainview is located in Long Island, New York or in Massachusetts, but it is probably located in Maryland, which is also Jeff Kinney's birthplace.
Neighborhoods
Surrey Street (Surrey Circle in the online version)
theoretical The Rich Kid's Street (might be pleasant street)
Schools
Unnamed elementary school
Restaurants
Red Lobster
Chuck E Cheese (Online version only)
Amazing Andrew's Workplace
McDonald's (Online version only)
Toufe Grille
Vegetarian's Delight
Spaghetti Barn
Unknown Fried Chicken restaurant
Pizza Hut (Online version only)
Hot-Dog Heaven
Residences
Other
Pine Tree Mall
Tender Hugs Pediatric Dental Care
Liberty Street Mall
Greg's Birth Hospital
Dr. Kagan's Office
Veterinarian
Quiet Meadows
Restful Overlook
Peaceful View
Pleasant Hills
Sleep Tite Motel
Unknown grocery
Park
Plainview Mall
Game Hut
Surrey Street Hill
Trivia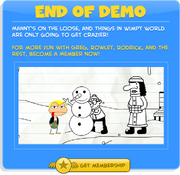 Plainview is a real-life town where author Jeff Kinney currently lives and works. Plainview in real life is located in South Massachusetts.
In Diary of a Wimpy Kid: Rodrick Rules (film), the Heffleys vehicle has a front license plate that appears similar to an Ohio license plate.
In Diary of a Wimpy Kid: Double Down it was stated that a mob of geese would often make a stop at Greg's town, meaning that Plainview might be located somewhere on the east coast.
The non-member block popup for Wimpy Wonderland refers to the place where the characters live as "Wimpy World."
Community content is available under
CC-BY-SA
unless otherwise noted.