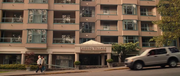 Leisure Towers, known as Leisure World in the online book and Leisure Village in the film, is a retirement community for elders in the Diary of a Wimpy Kid Series. Grandpa Heffley lived here. It is shown in Diary of a Wimpy Kid: Rodrick Rules (film) that Holly Hills' grandmother lives here. The residents at Leisure Towers love Precious Poochie and protest to keep him in the newspaper. According to Greg and his dad, the women outnumber the men 10 to 1, and that many of the female residents would try winning Greg's grandfather over with things like casseroles and baked goods. In Old School, Leisure Towers increased the rent making it impossible for Grandpa to afford, making him move out and move in with Greg and his family. It is mentioned again in Diary of a Wimpy Kid: Wrecking Ball, when Greg compares Heaven to Leisure Towers because of the high elder population.
Known Residents
Appearances
Gallery
Community content is available under
CC-BY-SA
unless otherwise noted.