Welcome to
Diary of a Wimpy Kid Wiki!
an open source encyclopedia based on Diary of a Wimpy Kid by Jeff Kinney which anybody can edit, this wiki has articles related to information on Diary of a Wimpy Kid. To write an article click on the box below and write the name of the page and click create.
If you don't want to create pages, then you could edit existing pages.
173

days until the 16th books release!
Featured Article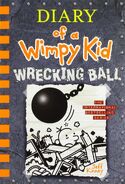 Diary of a Wimpy Kid: Wrecking Ball
is the 14th book in the Diary of a Wimpy Kid series. It was released on November 5, 2019. The cover of the book has a construction theme with an concrete-like font that says the book's subtitle: "Wrecking Ball." It has a picture of Greg in a pile of house parts with a wrecking ball above him.
Read more >
Did you Know?
Policies
The Diary of a Wimpy Kid wiki has some policies that should be followed if you don't you will receive warnings, blocks and even bans.
Do not vandalize/remove content/or spam pages.
When you go on chat, do not use offensive language or do any activities like that, or you shall be banned from chat or even blocked on the wiki from everywhere.
Do not bully people because of their age as anyone is allowed on this wiki.
Do not create fan made content (except for on blog posts or memes that are somewhat related to DOAWK in the post section Fun and Games)
Do not discuss fannon stories, go visit our friends over at r/loded diper to discuss that.
Do not use any offensive language on the comment section or even harass users there.
Do not vandalize other user's page.
Do not harass or make fun of other users, this will lead to warnings and blocks.
Do not spam in the comment section.
Keep it safe on this wiki, if you don't keep it safe you will be punished for it.
Only Diary of a wimpy kid related content.
These aren't all, more can be found at Category:Policy (currently under-construction).
Wimpy Kid Books
News

Miles854
•
4
From May 10th to 13th, I will be in Boston, Massachusetts with my dad mainly to attend an event in the nearby town of Cambridge for part of a day. I will also spend a lot of time in Boston, exploring the area as I have never been to Boston or the state of Massachusetts before.
During the trip, I am not sure which day during it exaclty, I will also be visiting the town of Plainville, the town in wh…
---
Official Friends



Advertisement
Media Corner

Official Trailer of Diary of a Wimpy Kid (film)
Featured Character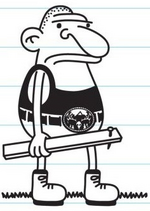 Meckley Mingo is one of the Mingo kids, as well as being the leader. He is a minor antagonist in the 8th book, Hard Luck and the 13th book, The Meltdown. At the end of Hard Luck, He's shown chasing Greg Heffley and Rowley Jefferson
He also makes an appearance at the climax of The Meltdown. Meckley is mentioned when Greg talks about the Mingo Kids and how Meckley is their leader. Once when Greg and Rowley stepped
Read more >
Featured Quote

"Bubby!"- Manny Heffley's word for "Brother" to Greg Heffley

Community content is available under
CC-BY-SA
unless otherwise noted.