Welcome to
Diary of a Wimpy Kid Wiki!
an open source encyclopedia based on Diary of a Wimpy Kid by Jeff Kinney which anybody can edit, this wiki has articles related to information on Diary of a Wimpy Kid. To write an article click on the box below and write the name of the page and click create.
If you don't want to create pages, then you could edit existing pages.
-132

days until the 15th books release!
Featured Article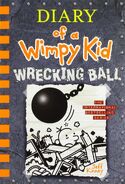 Diary of a Wimpy Kid: Wrecking Ball
is the 14th book in the Diary of a Wimpy Kid series. It was released on November 5, 2019. The cover of the book has a construction theme with an concrete-like font that says the book's subtitle: "Wrecking Ball." It has a picture of Greg in a pile of house parts with a wrecking ball above him.
Read more >
Did you Know?
Policies
The Diary of a Wimpy Kid wiki has some policies that should be followed.
Do not vandalize/remove content/or spam pages. If you do, you will receive warnings and even blocks.
When you go on chat, do not use offensive language or do any activities like that, or you shall be banned from chat or even blocked on the wiki from everywhere.
Do not use any offensive language on the comment section or even harass users there.
Do not vandalize other user's page.
Do not harass or make fun of other users, this will lead to warnings and blocks.
Do not spam in the comment section.
Keep it safe on this wiki, if you don't keep it safe you will be punished for it.
These aren't all, more can be found at Category:Policy (currently under-construction).
Diary of a Wimpy Kid Books
News

Miles854
•
From May 10th to 13th, I will be in Boston, Massachusetts with my dad mainly to attend an event in the nearby town of Cambridge for part of a day. I will also spend a lot of time in Boston, exploring the area as I have never been to Boston or the state of Massachusetts before.
During the trip, I am not sure which day during it exaclty, I will also be visiting the town of Plainville, the town in wh…
---
Official Friends




Advertisement
Media Corner

Official Trailer of the The Long Haul Movie:
Featured Character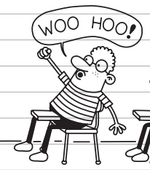 Dennis Tracton is a character who appeared in The Meltdown.
Greg was having an International Showcase project at school, and back in November, his class had to choose a country to work on. Greg chose Italy because he was a huge pizza fan. But it turned out Italy was a really popular country, so the teacher had to do a random drawing to decide who would get to do it. And she chose Dennis Tracton, which wasn't fair because Dennis is lactose intolerant and can't even eat cheese.
Read more >
Featured Quote

"Ploopy!"-Manny Heffley, said as an abusive word to Greg

Community content is available under
CC-BY-SA
unless otherwise noted.