Diary of a Wimpy Kid: Book 15

Author/Illustrator

Publisher

Abram Books (Amulet Books) and Puffin Books

Release Date

October 27 2020

Pages

224 (217 reading pages)

Preceded by

Followed by

Cover Artists

Book Number

15

Color

Unknown

Theme

Under-sea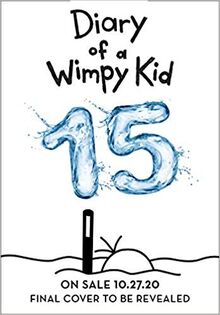 Diary of a Wimpy Kid 15 is an upcoming book in the Diary of a Wimpy Kid series.It will be released on Tuesday 27th October 2020. A teaser Was Released on Amazon.co.uk On February 13th, Explaining the plot (a little) and providing a release date.
Plot
Is Greg Heffley in over his head? Find out in Diary of a Wimpy Kid: Book 15, the newest book by #1 international bestselling author Jeff Kinney!