This page has been protected so that only users with autoconfirmed rights can edit it.
This may be due to an editing conflict or a large influx of vandalism or spam that may result from being a highly visited page.
If you have an idea for something that should be added to the page, message the admins with your suggestion.
| | |
| --- | --- |
| | This page is currently under construction. You can help by expanding it as much as possible. |
Diary of a Wimpy Kid: Big Shot[1] is the sixteenth book in the original Diary of a Wimpy Kid series. On Twitter, Jeff Kinney said that he was working on both Book 15, now known as The Deep End, and 16 both at the same time, and book 15 was finished. Kinney would reveal in an interview with The Boston Globe that the book would be about sports, a story he wanted to explore in the series for a while and that he thinks he finally "nailed it". [2] A teaser for the book was released on March 5th, 2021 on Amazon. The cover was revealed on May 26th of 2021, 5 months before the later release.[3] The book was released on October 26th of 2021. The cover shows Greg wearing a headband in a Basketball hoop, holding a hockey stick and a soccerball, and wearing various sports items.
Main Characters
Synopsis
In Big Shot[4], book 16 of the Diary of a Wimpy Kid series from #1 international bestselling author Jeff Kinney, Greg Heffley and sports just don't mix.
After a disastrous field day competition at school, Greg decides that when it comes to his athletic career, he's officially retired. But after his mom urges him to give sports one more chance, he reluctantly agrees to sign up for basketball.
Tryouts are a mess, and Greg is sure he won't make the cut. But he unexpectedly lands a spot on the worst team.
As Greg and his new teammates start the season, their chances of winning even a single game look slim. But in sports, anything can happen. When everything is on the line and the ball is in Greg's hands, will he rise to the occasion? Or will he blow his big shot?[5]
Plot
September
Greg starts off by saying that he hears that every athletes are born with a special gene and that he was born without one. Susan tells him that every person in a sport team has a important role to play but Greg says that his role is to make everyone else look good. Greg doesn't think he could become a professional athlete, so he says he's retiring.
Greg then writes a flashback about how he used to like sports such as soccer in preschool because you're basically free to do anything, it was chaos, but the adults didn't care. Greg said in soccer, even the refs didn't blow the whistles when something goes wrong. The coaches back then would make sure everyone scores at least one point to make kids feel good about themselves. Greg thought he was going to be a professional athlete. However, things started going downhill in kindergarten when the coaches started to become more strict about the rules, the adults were more serious, and the snack bar is replaced with heathy food. Greg said he'd stand in the corner of the field and not play soccer instead. In summer, Greg and his family would watch the Olympics, however thinks if he was in it; he'd have trouble smiling for the camera. He thinks about medals, and if he'd get a bronze he'll try to sell it.
After summer, there was a announcement for Field Day in school that happens every four years. School says if you win the competition, you'll have a school day off. Greg is not in the best shape right now, so he tries to change it by going to gym with Frank. Greg tries to use any equipment, but fails on using them, and gets kicked out of the gym.
Susan says he needs to eat correctly to get into shape, so they go to the supermarket. Greg states he invites Rowley to "tasting parties" because the snacks that Susan buys are awful but the family has to eat them because Susan says they have to clear the cabinets before they get new snacks. Susan explains that some food advertisements are misleading, and says that people such as Chef Marinara is probably just an actor. Greg tries to explain that it's hard to eat things that aren't wrapped up.
Field day is tomorrow, and Mrs. Bosh is pregnant and really wants a day off of school, so she wants the team to do well. Mrs. Bosh tries to spy on other teams to work out their tactics. Mrs. Epstein's class is one Mrs. Bosh is worried about, because they have a lot of athletes, and she also is worried that some adults are going to compete in field day.
After Field Day, Greg explains the main events that happened in field day. Greg was sign up for only one events, a three legged race. Greg had to do almost nothing, because Madison Burke, his partner, dragged him across the race. Greg had to run the fifty-yard dash because he had to fill in Marcello's role, and got second-to-last place. Greg states that he can run very fast, but just isn't motivated. Greg discovers that Jesse Range fell, making him second-to-last. After the competition, Vice Principal Roy says Friday is going to be a no-school day for everyone due to classes, like Mr. Ray's, cheating. On Friday, Susan took Greg out on things she wanted to do, (like a visit to Dr. Kagan's) however Greg wants to sleep in. Susan states that he needs to be on a real team, not a class team. She says some of her happiest days were on a team in middle school. Greg wonders how sports got started in the first place, and thinks sports is just a way to settle things without needing a war.
Greg states a flashback that he's only been to one professional sports game in his lifetime, when Frank took him to the city to watch a football game where Greg mentions it was actually fun. Frank didn't want to spend money to park near the stadium so they parked a mile away in a muddy lot where Frank pulled out his portable grill. After that, Greg had really needed to go to the bathroom which took a while; although the washroom was not good quality. He states that they needed to wait a long time, so when they got there, it was already a quarter in. Eventually, Greg figures out there's a big screen above the stadium called a Jumbotron. When there was a break on the game, there would be fan cams on random people on the stadium. Greg stated there was a "Fan of the game" which he was interested in, so he started doing stunts which could get you on there, but Greg failed. Frank didn't like Greg doing stunts, because it was embarrassing him so Frank asked Greg if he could go find snacks. However, when going there, Greg heard a cannon shoot which happens when a home team scores, which Greg thought was actual danger. After a while of him hiding, he went out after making sure the coast was clear, but he couldn't find his dad. Greg eventually got escorted to the Child Finder Station and had been shown on the Megatron, which made Greg use his chance too dance, to get fan of the game, in front of the entire audience. Believe it or not Greg actually won Fan of the Game and got two free tickets to the next match but Greg doesn't remember going to another game after that so he thinks Frank took Rodrick.
Then Greg says what stuck with him is how they tried to make it entertaining for the fans and how his church should learn a few things from it like:
They could have a mascot to make the service fun for little kids.
They could put in a half-time show as there's all sorts of crazy stuff you could do for entertainment.
The biggest upgrade would be if they added a jumbrotron as it would help people at the back feel closer to the action.

They could have a random draw to let people who came late sit at the front.
Plus, they could encourage people to be a bit more generous when they walk past the donation basket.
Greg suggestions make it to the church, however they haven't got back to Greg yet.
October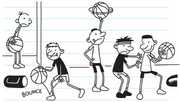 Greg was playing video games and was hoping that Susan would forget about him joining sports but despite Greg telling that sports will be replaced by e-sports in the future, Susan pressured him which made him decide which sports that he wants to play. Greg remembers a time where he threw a balled-up napkin where it landed in Justin White's empty milk glass which the whole cafeteria went crazy over that shot and it turned lunch into a nightmare where kids would re-create Greg's shot. Greg thought his napkin shot proved he had some talent, so he told Susan maybe he could try out for the basketball. That got Susan all excited because she said she played basketball when he was Greg's age, and her team was really good. Then she said maybe basketball skills run in their family. But the real reason why Greg wanted to join basketball is because there will be a lot of kids trying out and there'll be people that'll get cut out since Susan says that if he gives sports one more try then she'll stop bothering him about it. During tryouts, his original plan went out the window when he saw Susan at the tryouts. Tryouts starts off when the evaluators hand out jerseys which never had been washed. The participants were divided into four groups and they started off with dribbling Greg was struggling with his hand-eye coordination so the evaluators wrote down his number. Greg stayed behind one them but all the kids who were bad at basketball copied him. While all of that was happening, Susan and other parents including one of the evaluators were helping their kids out. Then they switched with their left hand which caused Greg to laugh causing his number to be written down. Next up was free throws and Greg struggled with that because he was used to shooting with balloons. After that they made the bottom 9 kids duke it out.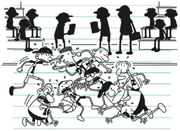 Greg didn't make it but when he got home, his parents celebrated him making it on the team this made Greg confused as he knew for sure that he didn't made it but Susan told them that she got a message from one of the coaches, Coach Patel but this made Greg confused even more because Coach Patel is the father of Preet Patel who's one the best athletes in Greg's grade even dominating the student-teacher basketball game but then Jabari Bruce told him that Preet had to miss his uncle's funeral so he couldn't be at the tryouts so that means that he couldn't be on a team so his father made his own team with Preet and all the kids who got cut at the tryouts.
Greg then introduces his team:
Coach Patel meets with his team for the first time in the elementary school and despite all the team members being bad (except for Preet) Coach Patel gave a speech that no matter what the team will begin to play the right way. Tommy Chu asked him why they were meeting in the elementary school cafetorium instead of the gym to whom Patel responds the other teams boked the gym for the season so they had to make do with the leftovers. The team started with dribbling drills then passing but because of all the tables half of the team had to practice on the stage that was set up for a kindergarten play. While they were practicing, they made a lot of mistakes which Coach Patel made them run sprints to the other side of the cafetorium but that everyone more tired which caused them to make more mistakes so after a while everyone except for Preet was running sprints. Greg tries to share his theory of sweat to Patel that when you sweat then you are working too hard but he made him run more sprints. After practice Susan wants to hear what he did today, Greg replies that it's just Preet that's good and that his team sucks.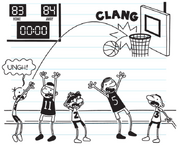 Greg then tells Susan that he is worried about being the one missing the shot in a game and that he'll ruin it for his team. Greg then writes about a guy named Anthony Grow who twenty years ago missed the final shot in a soccer game and lost to the town's biggest rival, Slacksville. Now Anthony can't go anywhere without people harassing him about it. Susan tried to make him feel better by telling him that she was a backup point guard on her middle-school basketball team and in the championship the score was tied when the regular point guard got hurt but she got double-teamed and with the clock ticking down she made her shot which came just short. She said that she was glad that it happened as it made her a better person which made Greg even more nervous.
The next entry starts off with Greg on why he should've chose a different sport than basketball the reasons why are:
There are practice 3 times a week plus one on Sunday on top of that he has to keep up with his school work
Greg can't get any sleep because his mom went out and brought a basketball hoop but since the school took down the outdoor hoops, teens came in and play basketball all night and even when his dad called the cops, the cops joined the teens
Practice also starts at 9:30 p.m.
The first night of practice took place at the gym but Coach Patel forgot to bring his bag of basketballs so while he was gone, the team discovered a bunch of fun equipment in the Phys Ed closet and started having fun and being a kid again even creating their own game. However it came to an end when Patel came back with the basketballs and they started practicing free throws but all of them except for Preet was struggling even when he tried to teach them the right way to shoot it. Greg got frustrated so he decided to shoot it backwards which actually went in which made his teammates tried to replicate it. Patel then told them that they were never gonna improve until they stopped horsing around. After a few nights of just shooting and dribbling, Coach Patel said that they are gonna scrimmage.
Greg and his teammates were excited that they were gonna play a game for once but then that's when the Men's League showed up. Patel and one of the guy on the team started to argue about the time they booked the gym but then Patel came up with a solution: Play a game against them and whoever won would have the court.
The Men's League warmed up for a very long time and then the game started.
Game 1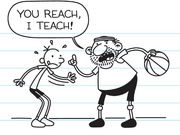 The game started up with Preet getting the tip-off but then the Men's League came back and started destroying them one of the reasons was that they didn't stopped talking about corny stuff such as "You reach I teach" and "I'm calling bank" which started getting into Greg and his teammates' head which made them struggle. At that point the Men's League figured out that Preet was the only good player on Greg's team so whenever he would get the ball the Men's League would be all over him. Then Preet was frustrated so when he got the ball, he ran to the other side of the court and he decided to dunk it. But he wasn't tall enough to do it which broke his ankle and he wasn't able to play so the Men's League won.
In the next practice Patel gave a speech about injuries were part of sport and they were gonna have to step it up. He tried to teach them techniques to help them score they started with five on three but nobody could get the ball in so it was now five on two then five on one but they still weren't able to score so it was now five on zero and they finally made a shot by luck when Darren tried to pass the ball to Marcus but Marcus didn't caught the ball so it bounced on Yusef's head then it went in. Towards the end of practice, Coach Patel handed out the team's uniforms which was recycled from tryouts and had a sponsor that was closed for code violations.
Next practice was their first game of the season at the elementary school Coach Patel wrote some new plays on paper but none of the people on the team understood what all the things mean. Then the game started against Franklin.
Game 2
The Franklin won the tip-off and made a layup. Whenever Kevin gets the ball, he has to take out his retainer so people would understand him eventually the Franklin caught on and they kept stealing the ball while Greg's team was trying to follow Patel's new plays but no one knew who was x and who was o. Coach Patel started subbing kids out of the game and Greg was worried that he was gonna put him in and Susan wasn't helping either. The gym was old which caused problems. At one point Tommy Chu tried to get a rebound but he hit his head at the wall. Then someone threw a bad pass and it landed in the urinal in the bathroom near the gym and by halftime the score was 38-6 in Franklin's favor. During halftime, Patel gave a speech about a group of Scottish warriors who were outnumbered by their enemies but they won because they stick together and after the speech the team was ready. Before the second-half started, the team was dehydrated so they helped themselves to the Woodley's cooler that they used from summer vacation although it wasn't clean. Coach Patel put Yusef in for the first half but he was sweaty so he wrung it in the Woodley's cooler. The second half started and even thought the team was fired up from Patel's speech they still perform terribly. Patel put in Greg and the rest of team in but things were still the same.
After the game ended Susan said that Patel should've run different plays and that Greg should've gotten more playing time. Frank tried to make Greg feel better by saying that his team would've won if it was golf.
The next day, Greg talks about how sports separate people. He says that the reason why Plainview hates the surrounding town was because they always destroy them in sport and the town that they hate the most is Slacksville. A hundred years ago, Plainview was supposed to get their own jewelry factory but bigwigs from Slacksville came in and stole the factory which begin the rival and since then Plainview has been creative about getting them back such as changing the law so the state put a dump in Slacksville. A few months back, the Mayor of Slacksville called the Mayor of Plainview about making a peace offer by donating wood to the bonfire in the park but turns the wood was chemically treated after they put down the wood in the middle of the park which Slacksville's mayor found to be funny. The wood remained in the park and decayed over time, with raccoons beginning to live in it. The reason why Greg brought up Slacksville was because his next game was at Slacksville High.
His team begins to warm-up while the Slacksville's crowd were constantly booing.
Game 3
The game starts off with Slacksville hitting a three-pointer then they stole the ball and made another one and now they were twently points ahead. After that they started running a full-court press and they were blocking Greg's team from passing the ball and everytime there was a rebound, the Slacksville center would always steal the ball as he was so big that he made Yusef look tiny. During halftime Patel gave another speech how they were representing their town and that they need to fight hard. However Ruby Bird and Yusef took it literally and the Woodley brothers started going at each other. Keven's mother and some other Slackville mom started arguing. Patel put Greg and Tommy Chu in after he ejected Yusef and Ruby for fighting. Patel told the team to run one of the plays and it actually worked when Kevin tried to pass a ball to Jabari but it bounced off his hands and bounced on Tommy Chu's head instead and went in the goal. The score was now 52-2 which annoyed Slacksville. However the Slacksville coach put his starters back in the game and they already scored 23 points but then Greg got the ball and a Slacksville player hacked his arm and the ref called a foul.
(Under construction)
Trivia
This is the first book to be fully based on a "sports" theme.
This is the fourth book to have Rowley as a minor character, (books being Diary of a Wimpy Kid: The Long Haul, Diary of a Wimpy Kid: The Getaway and Diary of a Wimpy Kid: The Deep End.

Additionally this is the first book that isn't a road trip to have Rowley as a minor character

Jeff Kinney revealed on his Twitter that this book starts in September, on a Monday.[6]
This is the seventh book with Greg's trademark frown on the cover.
This is the sixth book with the words, "Jeff Kinney" off centered on the cover.
This is the fifth book to not have the word "Diary" in yellow.
The Last Straw previously had Greg on a soccer team, which lasted from March to early April.
This is the first book in the main series to show Greg wearing headwear on the cover & spine.
This is the first book to have 3 different colors on the cover & spine.
It is also the first book in the main series to be colored white.
Jeff Kinney stated that it took 10 days to decide on an opening sentence.[7]
This book brings back some notable characters that hadn't appeared in a while, like Ruby Bird and Edward Mealy.
The Heffleys are shown to have moved back into their old house in this book. It's possible that they were able to gain enough money to fix the damage on their house following the events of The Deep End.
In Page 45's illustration, it shows a Snurple from The Snurples, but the show is now called "The Murples".
Ruby Bird now has 2 front teeth, unlike her previous appearance in The Third Wheel, where she only had 1 front tooth.

She most likely got a dental implant to replace her missing tooth.

Mr. Ray and Vice Principal Roy came back in this book, the latter's first appearance since Diary of a Wimpy Kid: Double Down.
This book features a ton of extremely tall characters.
Capitalized words are much less frequent than the The Deep End.
In the British version of the book, the American flags on page 11 and 16 are replaced by British flags.
This is the 7th time Fregley did not appear.
Due to the name "big shot" with the famous Spamton catchphrase "DONT YOU WANNA BE A [[BIG SHOT]]?" and with his battle song "big shot", this resulted to a meme.
Goofs/Errors
On page 116, France's flag is shown horizontally, not vertically.
The Heffleys are seen living in their own home, despite them living in Gramma's basement since the previous book.
Greg is still shown attending Middle School. Although, this may be excusable, considering the fact that the book series is in a floating timeline.
The Snurples is now called "The Murples"
Edward Mealey's name is misspelled, omitting the 2nd E in Mealey. This could be a continuity error.
On page 146, one of the men has a transparent vest.
Gallery
See Diary of a Wimpy Kid: Big Shot/Gallery
Videos
External Links
References