Diary of a Wimpy Kid Cheese Touch is a Board Game released in 2010 and in Germany, in 2011. The designer of the game is uncredited and Jeff Kinney was the artist. It also has a yellow toy cheese piece included in its box.
How to Play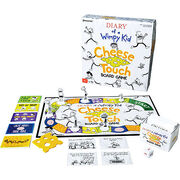 Move your mover around the game board. Depending on where you end up, you'll be playing different categories.
In Who Said What, all players will secretly write down an answer to a question like "if you could only eat one food for the rest of your life, what would it be?"
Go through the answers and try to guess who said what. Correct answers move you closer to finish. But wrong answers can give you the cheese. Try to get rid of it as fast as you can. 
Even though they're are eight characters on the board cover, only four of them including Rodrick, Greg, Fregley and Rowley are playable while others don't have any movers. Template:Br
Supplies
Game Board
Four Movers
Game Cards
Cheese Piece
Game Dice
Rules Booklet
Yellow toy Cheese Piece
Community content is available under
CC-BY-SA
unless otherwise noted.